OUR STORY
The Scuba School is your port of call for all your scuba training and supply needs. A family-owned and operated business, we have proudly served the Little Rock, Conway, Russelville and Fort Smith areas of Arkansas for more than a decade, providing certified instruction and top of the line products and services. We also offer complete maintenance and refill services for your existing equipment, including air and Nitrox refills, equipment inspections, and thorough troubleshooting and repair.
OUR VISION
Offering small class sizes and individual attention, our Coast Guard and PADI-certified trainers will have novices and veterans alike under the surface and diving smart in no time. Our training and certification classes combine study and practice to ensure every diver is knowledgeable and comfortable in all aspects of diving before practical demonstration in the water. We also offer guided spearfishing excursions.
Contact Us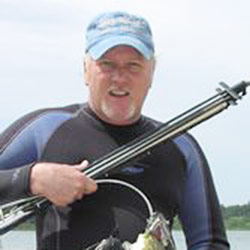 Cap'n Glen Masker -
SDI IT and Course Director, PADI Master Instructor
The Cap'n has been diving since the early 70's when he was in the US Coast Guard. He has been teaching diving for the last 15 years as a Scuba professional. His favorite dive destination is Puerto Rico because it has a lot of great diving and a ton of history to keep you busy on your surface intervals. Ask him about the pigeon park and old San Juan.

He is a father of three girls, and "Papa" to 11 grandkids, Two used kitties, and one precocious Pomeranian. Cap'n is a PADI Master Instructor, an SDI/TDI Course director, Instructor trainer, and a Public safety ERDI and underwater CSI Instructor.
Email Cap'n Glen Masker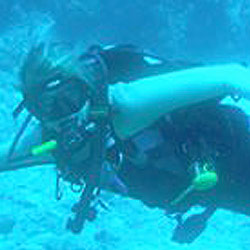 Christa Ridenhour -
PADI Divemaster
Christa is the best kind of Divemaster - home grown. She took a class and hasn't stopped diving yet... Her favorite dive destination is Akumal Mexico because of all the turtles. She is a mother of a four year old and a bulldog.
Ryan Vanderveer (Ryno) -
PADI Divemaster
Ryan is a home grown PADI Divemaster that took his first class last year, never stopped, and in fact made divemaster in almost exactly one year... Every time we go diving Ryno wants to go. Ryan lives with a rather large Cat named Tiger and has an attitude to match his name. He is a great help around the shop and you may see him helping us teach or manning the store.
Email Ryan Vanderveer (Ryno)
Catherine (Cat) LeCompte -
DiveMaster
Cat first became amphibious playing underwater hockey... that was her first steps in mastering buoyancy and breathing under water. She then got scuba certified in 1999 with open water, moved on to advanced and rescue diver in 2011. Now a dive master with Captain Glen, she gets to share her passion for diving every chance she gets! Cat swears by using nitrox on 7 days dive trips to fully enjoy 3 or 4 dives per day... and even squeeze in a fifth night dive. With over 400 dives logged, from the cold water lakes of Quebec, Canada to the warm waters of Roatan, Utila... She has a story or two she can share with you, including the one about the Quebecoise meeting the Arkansan in Roatan! Cat Speaks three languages, french, english and spanish
Email Catherine (Cat) LeCompte
Ed LeCompte -
Divemaster
Ed came to us wanting to be a divemaster. He has done extensive diving around the world. Ask him about living and diving in Hawaii.... Lives with an avid diver Catherine that he met on a dive trip. Interesting story if you can get him to share. Ed has been in law enforcement and currently is a nurse at a heart hospital.
Email Ed LeCompte
Jessica Mashburn -
Divemaster
Jess is a home grown Divemaster that started at the Scuba School and is a very active member of our staff. She is a great Divemaster, here and teaches Junior high English locally. She also completed her Divemaster course in a year from the first class. Jess live with her husband CJ who is also a avid diver.
Email Jessica Mashburn
Shannon Smith (Shipwreck) -
Divemaster
Shannon came to us at the advanced diver stage but quickly decided to go pro..... Might see him in retirement in the Caribbean someday teaching.... Shannon and the Cap'n share a love of all things Jimmy... Buffet that is. Been to a few concerts together and burned a few brain cells together. Shannon runs a service-master business during the day to pay for his Scuba stuff. Lives with his wife in Pine Bluff. Two older boys, one is a diver also, workin' on the other one... Favorite dive destination has to be Roatan....
Email Shannon Smith (Shipwreck)